Professional Vitae of William Jackson
Masters of Arts in Teaching (M.A.T) M.Ed.
Concentration: Educational Technology


Current/Past Employment:
Duval County Public Schools
Past teaching experiences with:
Edward Waters College Jacksonville,Fl
Florida State College Jacksonville, Fl
Jacksonville, Florida, U.S.A.
Florida Department of Education
National Aeronautics and Space Administration (NASA)


Name: William D. Jackson
Email: wmjcksn@yahoo.com
Chat: wmjcksn – Yahoo
Phone: (904) 502 3211
Mailing Address:
P.O. Box 1493
Orange Park, Florida 32067-1493
United States of America


Board/Executive Positions:
E3 Business Group - Jacksonville, Florida
JCCI - Jacksonville Community Council Inc.
ACLU Northeast Council
Boys2Men Symposium

Study Circle Participant
Study Circles Site

Online Media
Official Blogger for E3 Business Group
Web Site



Real Talk - Real Change Forum at WJCT
Forum at WJCT
Video located on Ustream.tv
Real Talk Real Change Forum at MOSH
YouTube Video
Parental Involvement
Online Website - Official Web Site
Youtube - YouTube Videos - Please subscribe
Facebook - E3 Social Network
Jacksonville.com - Community Columnist
View Blogs Online
First Coast News - Blogger
View Blogs Online
My Space:
wdjfleducator
Blogs:
My Quest To Teach
My Quest To Teach
The Virtual Chamber of Commerce:
Virtual Chamber of Commerce
Wikispaces
Wikispaces - My Quest To Teach
FACEBOOK
FACEBOOK


Literary Accomplishments:
A. The Florida Courier
Orlando, Tampa, Jacksonville and Daytona Beach

B. The Christian Reader
Jacksonville and Daytona Beach
C. Daytona Times
Daytona Beach
D. The Gospel News
South Georgia
E. The Florida Star
Jacksonville and Southeast Georgia
(The Florida Star)
F. Jacksonville Free Press
Jacksonville
(Study Circle Article)
G. The GrapeVine Newspaper
Jacksonville
H. The Peoples Advocate
Jacksonville
Peoples Advocate
I. Folio Weekly
Jacksonville
J. Seeing Growth
Seeinggrowth.com
Making History Online
K. Onyx Magazine
Jacksonville, Daytona, Orlando
Online Magazine
L. BlackPages USA
Jacksonville, Daytona, Orlando, Georgia, N.C.
M. Black Refer
Posted Articles
Several articles are posted here



Education:


M.Ed. (M.A.T 2004) - Educational Technology
Webster University – Jacksonville, Florida
B.S. (1985) - Physical & Health Education
South Carolina State University – Orangeburg, S.C.
High School Diploma (1980) - College Prep
Camden High School - Camden, New Jersey



Religious Affiliation:


West Friendship Missionary Baptist Church



Business Owner:


JETI – Jackson Educational Technology Instruction
Providing refurbished computers to churches, schools,
community organizations and small businesses.
Renting/Leasing technology equipment for presentation on multiple levels. Click Here To get more information.


Educational Technology Consultant: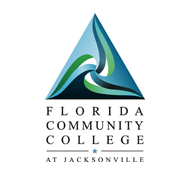 Florida State College Jacksonville
Jacksonville, Florida
Educational Proficiency Initiative
Instructor for Diversity and Technology Instruction
for First Coast Teacher Program.
Alternative certification program for FSCJ.
Preparing individuals with degrees in various
disciplines for immersion
into the classroom environment. Mentoring and guiding
participants to effective implementation and execution of
classroom policies, procedures and routines.
Technology that applies to the business environment.
How to implement technology that supports a viable business plan.


School Technology Coordinator:
Duval County Public Schools:
North Shore Elementary - John E. Ford Elementary Chimney Lakes Elementary -
Andrew Robinson Elementary (Current)
Duties and Responsibilities:
Technology-based instruction,hardware management,
support staff professional development in technology applications,
manage online assessments
(FCAT EXPLORER/TestGear)
maintain and repair hardware,
and evaluate/implement software for instructional use.


FIRN-TEC
Florida Department of Education 1997 - 2000
Instructional representative/presenter/trainer and mentor
Florida Instructional Resource Network
Technical Education Consultant
Conduct technology training for Northeast Florida in
the counties of:
Duval – Nassau – Flagler – St. Johns - Volusia
Incorporate "Train the Trainer" program



Edward Waters College
Jacksonville, Florida 1999 to 2007
Adjunct Professor - Teacher Re-certification program 1999 to 2001
Educational Technology (Education Department) 2004 to 2007
Virtual Learning Lab Instructor – 2005 - 2006 summer (grant position)
Schell-Sweet Community Center
Technology Lab TestGear Online Learning Network
Faith Based Support with online instruction for preparation
for state assessment (FCAT)



National Aeronautics and Space Administration
Instructional coach and web content designer for higher education
Jacksonville, Florida (1999 – 2001)
Technology instructor
Modeled instruction on the implementation of
technology into the learning environment using productivity tools.
Designed an instructional program in cooperation with
NASA for technology teacher certification.
National Aeronautical and Space Administration
curriculum design.
Introduction of teachers to basic technology related skills
and integration into their classroom curriculums.


Past Adjunct Professorships:
St. Johns River Community College (1996-1998)
Edward Waters College (2004-2007)
Florida State College (2007 to present)


Philosophy of Teaching:
The believe that all children have the capability to learn;
My goal is to prepare students for the working environment
by teaching them how to be creative and productive with the
use of technology, and using these tools ethically.
Teaching students to be independent thinkers, dreamers
and accept challenges that may come their way.
Learning never stops and our children must be taught that
their learning is continuous throughout their lives.


Instructional Development:
Experience in developing technology curriculums for an
instructional hybrid program that is project based,
developed using the Florida Sunshine State Standards as
an established foundation.
Scope:
The scope of the curriculum is in the developmental areas
of increasing the mastery of required mathematics and reading skills (literacy and comprehension). Focusing on the concepts that are present on state assessment modules;
Florida Comprehensive Assessment Testing
Goal:
Developmental curriculum is to aid students with excelling on the
state assessment tool:
FCAT - Florida Comprehensive Assessment Test.
To assist the classroom teacher in the academic growth of
the student. Having to show gains in academic areas to permit
promotion to the next grade and provide the tools
necessary to handle the additional academic requirements.


Conference Presentations:
A. FETC – Florida Educational Technology Conference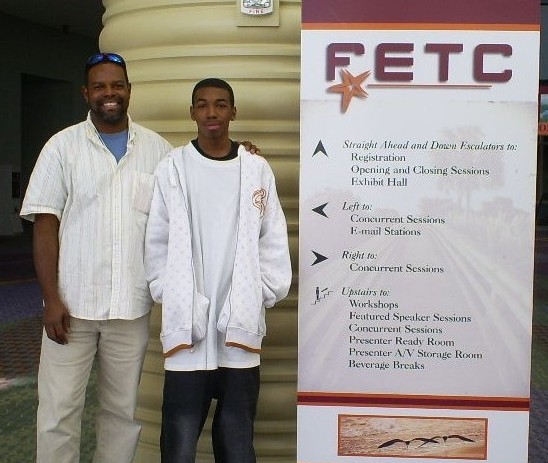 Orlando, Fl
Presenter and facilitator
B. FAME – Florida Association of Media Educators
Daytona Beach, Fl
Presenter and facilitator
C. Kuumba African Cultural Arts and Music Fest
Jacksonville, Fl
Multicultural festival promoting African American Pride.
D. Kwanzaa Festival – Celebrating the richness of Kwanzaa
Jacksonville, Fl
Presenter and facilitator
E. Albany State University (Albany Ga.)
Technology Conference - Albany, Ga.
Presenter and Facilitator
F. The Wakaguzi Forum (Critical Thinkers)- Edward Waters College
Jacksonville, Fl
Intellectual Think Tank - Presider and Facilitator
G. Florida Association of African American Student Association
Jacksonville Beach, Fl
Technology Presenter
H. Florida Courier/Daytona Times Talk Show
Daytona Beach, Florida
Discussion on state educational issues
I. Black Business Professionals and Entrepreneurs Conference
Savannah, Ga.
Presenter – Technology in the Business Environment
J. First Family Preservation Conference
Edward Waters College
Jacksonville, Florida
Presenter
K. Black Expo "Black Out" – Daytona Beach, Florida
Presenter
L. National Association for
College Admission Counseling - Jacksonville, Florida
M. Minorities in Teaching Conference - Orlando, Florida
"Proposal: Digital Tools for the Success of Minority Children"
N. First and Second Annual Martin Luther King Gospel Fest
Edward Waters College – Jacksonville, Florida
Presentation "The Power of a Dream"
O. Poetry Event: "Love Of The Spoken Word"
Daytona Beach, Florida
P. Florida Black Business Expo
Orlando, Florida – Speaker:
"Integrating Technology in the Business Environment"
Q. Kwanzaa Festival
(Nefertit's Books and Gifts)
Celebrating the richness of Kwanzaa
R. Boys2Men Conference
Jacksonville, Florida
Presentor and Facilitator and Vendor
S. BLACK EXPO 2008/2009
Jacksonville, Florida
Technology Vendor
T. Black Teen Empowerment Radio Show
Online show based on teen empowerment with guests,
interviews with community leaders, callins from the public.


Professional Associations/Memberships:
E3 Business Group - Jacksonville, Florida
JCCI - Jacksonville Community Council Inc.
ACLU Northeast Council
The Jacksonville Alliance of Black School Educators (JABSE)
Kuumba African American Cultural Arts Committee
Association of Christian Community Computer Centers (AC4)
NABS – National Association of Black SCUBA Divers
NAUI-National Association of Underwater Instructors
NASE-National Association of SCUBA Educators
Technology Editor for Gospel News Newspaper
Florida Association of African American Student Association
National Association for College Admission Counseling
The Wakaguzi Forum (Edward Waters College) (Critical Thinkers – Kiswahili)
National Education Association (NEA)
American Federation of Teachers (AFT)
Boys2Men Symposium
Virtual Chamber of Commerce